Guys.
I can't believe that May is almost over. I have read so many books and I'm pretty proud of myself.
So here are the books I've read.
I'll include the description for each one as well.
Soundless by Richelle Mead
In a village without sound…
For as long as Fei can remember, no one in her village has been able to hear. Rocky terrain and frequent avalanches make it impossible to leave the village, so Fei and her people are at the mercy of a zip line that carries food up the treacherous cliffs from Beiguo, a mysterious faraway kingdom.
When villagers begin to lose their sight, deliveries from the zip line shrink. Many go hungry. Fei and all the people she loves are plunged into crisis, with nothing to look forward to but darkness and starvation.
One girl hears a call to action…
Until one night, Fei is awoken by a searing noise. Sound becomes her weapon.
She sets out to uncover what's happened to her and to fight the dangers threatening her village. A handsome miner with a revolutionary spirit accompanies Fei on her quest, bringing with him new risks and the possibility of romance. They embark on a majestic journey from the peak of their jagged mountain village to the valley of Beiguo, where a startling truth will change their lives forever…
And unlocks a power that will save her people.
The Avery Shaw Experiment by Kelly Oram
When Avery Shaw's heart is shattered by her life-long best friend, she chooses to deal with it the only way she knows how—scientifically.
The state science fair is coming up and Avery decides to use her broken heart as the topic of her experiment. She's going to find the cure. By forcing herself to experience the seven stages of grief through a series of social tests, she believes she will be able to get over Aiden Kennedy and make herself ready to love again. But she can't do this experiment alone, and her partner (ex-partner!) is the one who broke her heart.
Avery finds the solution to her troubles in the form of Aiden's older brother Grayson. The gorgeous womanizer is about to be kicked off the school basketball team for failing physics. He's in need of a good tutor and some serious extra credit. But when Avery recruits the lovable Grayson to be her "objective outside observer," she gets a whole lot more than she bargained for because Grayson has a theory of his own: Avery doesn't need to grieve. She needs to live. And if there's one thing Grayson Kennedy is good at, it's living life to the fullest.
Fangirl by Rainbow Rowell
Cath and Wren are identical twins, and until recently they did absolutely everything together. Now they're off to university and Wren's decided she doesn't want to be one half of a pair any more – she wants to dance, meet boys, go to parties and let loose. It's not so easy for Cath. She would rather bury herself in the fanfiction she writes where there's romance far more intense than anything she's experienced in real life.
Now Cath has to decide whether she's ready to open her heart to new people and new experiences, and she's realizing that there's more to learn about love than she ever thought possible …
A tale of fanfiction, family, and first love
A Court of Wings and Ruin by Sarah J. Maas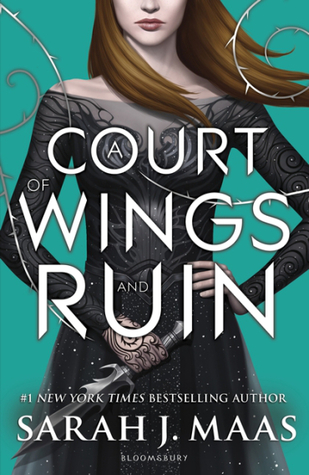 Looming war threatens all Feyre holds dear in the third volume of the #1 New York Times bestselling A Court of Thorns and Roses series.
Feyre has returned to the Spring Court, determined to gather information on Tamlin's maneuverings and the invading king threatening to bring Prythian to its knees. But to do so she must play a deadly game of deceit-and one slip may spell doom not only for Feyre, but for her world as well.
As war bears down upon them all, Feyre must decide who to trust amongst the dazzling and lethal High Lords-and hunt for allies in unexpected places.
In this thrilling third book in the #1 New York Times bestselling series from Sarah J. Maas, the earth will be painted red as mighty armies grapple for power over the one thing that could destroy them all.
My review for this book is here.
The books in the LUX series by Jennifer L. Armentrout
Oynx (#2)
Being connected to Daemon Black sucks…
Thanks to his alien mojo, Daemon's determined to prove what he feels for me is more than a product of our bizarro connection. So I've sworn him off, even though he's running more hot than cold these days. But we've got bigger problems.
Something worse than the Arum has come to town…
The Department of Defense are here. If they ever find out what Daemon can do and that we're linked, I'm a goner. So is he. And there's this new boy in school who's got a secret of his own. He knows what's happened to me and he can help, but to do so, I have to lie to Daemon and stay away from him. Like that's possible. Against all common sense, I'm falling for Daemon. Hard.
But then everything changes…
I've seen someone who shouldn't be alive. And I have to tell Daemon, even though I know he's never going to stop searching until he gets the truth. What happened to his brother? Who betrayed him? And what does the DOD want from them—from me?
No one is who they seem. And not everyone will survive the lies…
Opal (#3)
After everything, I'm no longer the same Katy. I'm different… And I'm not sure what that will mean in the end. When each step we take in discovering the truth puts us in the path of the secret organization responsible for torturing and testing hybrids, the more I realize there is no end to what I'm capable of. The death of someone close still lingers, help comes from the most unlikely source, and friends will become the deadliest of enemies, but we won't turn back. Even if the outcome will shatter our worlds forever.
Together we're stronger… and they know it.
Origin (#4)
Daemon will do anything to get Katy back.
After the successful but disastrous raid on Mount Weather, he's facing the impossible. Katy is gone. Taken. Everything becomes about finding her. Taking out anyone who stands in his way? Done. Burning down the whole world to save her? Gladly. Exposing his alien race to the world? With pleasure.
All Katy can do is survive.
Surrounded by enemies, the only way she can come out of this is to adapt. After all, there are sides of Daedalus that don't seem entirely crazy, but the group's goals are frightening and the truths they speak even more disturbing. Who are the real bad guys? Daedalus? Mankind? Or the Luxen?
Together, they can face anything.
But the most dangerous foe has been there all along, and when the truths are exposed and the lies come crumbling down, which side will Daemon and Katy be standing on?
And will they even be together?
Opposition (#5)
Katy knows the world changed the night the Luxen came.
She can't believe Daemon welcomed his race or stood by as his kind threatened to obliterate every last human and hybrid on Earth. But the lines between good and bad have blurred, and love has become an emotion that could destroy her—could destroy them all.
Daemon will do anything to save those he loves, even if it means betrayal.
They must team with an unlikely enemy if there is any chance of surviving the invasion. But when it quickly becomes impossible to tell friend from foe, and the world is crumbling around them, they may lose everything— even what they cherish most—to ensure the survival of their friends…and mankind.
War has come to Earth. And no matter the outcome, the future will never be the same for those left standing.
Cinderella and the Colonel by K. M. Shea
Scratching out a living in a land recovering from war and a hostile takeover, Cinderella—an orphaned, destitute duchess—is desperate to save her lands and servants in spite of the terrible taxes placed upon her by the Erlauf queen, even if it means she must don servants' clothes and work like a commoner.
Her sacrifices aren't enough, and when a mountain of debt is levied against her, she is given one season to produce the funds. Cinderella realizes it is only a matter of time before she loses everything she has struggled to protect, and it seems that all is lost until she is befriended by the debonair Colonel Friedrich—a member of the Erlauf military and a citizen of the oppressing country that rules her homeland.
From helping her break into the royal library to saving her from a rogue mage, Friedrich draws her closer and challenges her mindset of the queen and the war.
Cinderella knows Friedrich is not all he appears to be, but can she trust him with her country and her heart?
CINDERELLA AND THE COLONEL is fairy tale retelling of love, sacrifice, adventure, and magic. It is filled with humor, deception, and clean romance, and it belongs to the top selling series, TIMELESS FAIRY TALES. The books in this series take place in the same world and can be read all together, or as individual, stand-alone books.
I have a review for this here
Lord of Pleasure by Erica Ridley
In the Rogues to Riches historical romance series, Cinderella stories aren't just for princesses… Sigh-worthy Regency rogues sweep strong-willed young ladies into a whirlwind romance with rollicking adventure.
Nondescript "good girl" Miss Camellia Grenville only ever opens her mouth when forced to sing at her family's musicales. That is, until the night she infiltrates the ton's most scandalous masquerade ball on behalf of her sister, and finds herself in the arms—and the bed—of the one man she'd sworn to hate.
Irresistibly arrogant and unapologetically sensuous, infamous rake Lord Wainwright always gets his way. When he accepts a wager to turn his rakish image respectable in just forty days, he never anticipates falling for an anonymous masked lover…or that discovering her identity would destroy them both.
Grave Mercy by Robin LaFevers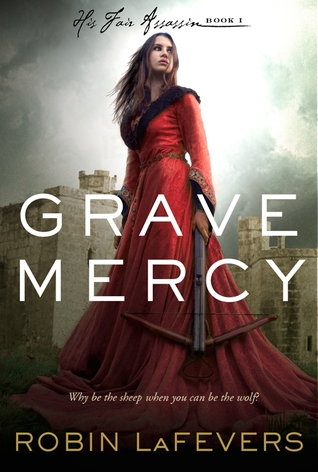 Why be the sheep, when you can be the wolf?
Seventeen-year-old Ismae escapes from the brutality of an arranged marriage into the sanctuary of the convent of St. Mortain, where the sisters still serve the gods of old. Here she learns that the god of Death Himself has blessed her with dangerous gifts—and a violent destiny. If she chooses to stay at the convent, she will be trained as an assassin and serve as a handmaiden to Death. To claim her new life, she must destroy the lives of others.
Ismae's most important assignment takes her straight into the high court of Brittany—where she finds herself woefully under prepared—not only for the deadly games of intrigue and treason, but for the impossible choices she must make. For how can she deliver Death's vengeance upon a target who, against her will, has stolen her heart?
Geekerella by Ashley Poston
Anything can happen once upon a con…
When geek girl Elle Wittimer sees a cosplay contest sponsored by the producers of Starfield, she has to enter. First prize is an invitation to the ExcelsiCon Cosplay Ball and a meet-and-greet with the actor slated to play Federation Prince Carmindor in the reboot. Elle's been scraping together tips from her gig at the Magic Pumpkin food truck behind her stepmother's back, and winning this contest could be her ticket out once and for all—not to mention a fangirl's dream come true.
Teen actor Darien Freeman is less than thrilled about this year's ExcelsiCon. He used to live for conventions, but now they're nothing but jaw-aching photo sessions and awkward meet-and-greets. Playing Federation Prince Carmindor is all he's ever wanted, but the diehard Starfield fandom has already dismissed him as just another heartthrob. As ExcelsiCon draws near, closet nerd Darien feels more and more like a fake—until he meets a girl who shows him otherwise.
I HAVE READ 12 FREAKIN' BOOKS!!!
wow.
I honestly love reading a lot of books. I think its wonderful and makes me feel like a proud mom.
SO NOW THE TBR.
Let's start!!
JUNE 2017 TBR
The first 2 books are part of a trilogy I think we all know.
They are
THE ROSE SOCIETY BY MARIE LU
Once upon a time, a girl had a father, a prince, a society of friends. Then they betrayed her, and she destroyed them all.
Adelina Amouteru's heart has suffered at the hands of both family and friends, turning her down the bitter path of revenge. Now known and feared as the White Wolf, she flees Kenettra with her sister to find other Young Elites in the hopes of building her own army of allies. Her goal: to strike down the Inquisition Axis, the white-cloaked soldiers who nearly killed her.
But Adelina is no heroine. Her powers, fed only by fear and hate, have started to grow beyond her control. She does not trust her newfound Elite friends. Teren Santoro, leader of the Inquisition, wants her dead. And her former friends, Raffaele and the Dagger Society, want to stop her thirst for vengeance. Adelina struggles to cling to the good within her. But how can someone be good when her very existence depends on darkness?
Bestselling author Marie Lu delivers another heart-pounding adventure in this exhilarating sequel to The Young Elites.
AND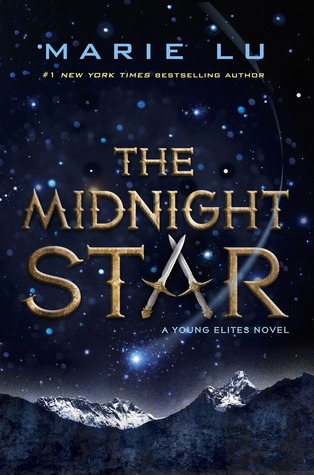 THE MIDNIGHT STAR BY MARIE LU
There was once a time when darkness shrouded the world, and the darkness had a queen.
Adelina Amouteru is done suffering. She's turned her back on those who have betrayed her and achieved the ultimate revenge: victory. Her reign as the White Wolf has been a triumphant one, but with each conquest her cruelty only grows. The darkness within her has begun to spiral out of control, threatening to destroy all she's gained.
When a new danger appears, Adelina's forced to revisit old wounds, putting not only herself at risk, but every Elite. In order to preserve her empire, Adelina and her Roses must join the Daggers on a perilous quest—though this uneasy alliance may prove to be the real danger.
HEARTLESS BY MARISSA MEYER
Catherine may be one of the most desired girls in Wonderland and a favorite of the unmarried King, but her interests lie elsewhere. A talented baker, she wants to open a shop and create delectable pastries. But for her mother, such a goal is unthinkable for a woman who could be a queen.
At a royal ball where Cath is expected to receive the King's marriage proposal, she meets handsome and mysterious Jest. For the first time, she feels the pull of true attraction. At the risk of offending the King and infuriating her parents, she and Jest enter into a secret courtship.
Cath is determined to choose her own destiny. But in a land thriving with magic, madness, and monsters, fate has other plans.
FIRE BY KRISTEN CASHORE
It is not a peaceful time in the Dells. The young King Nash clings to his throne while rebel lords in the north and south build armies to unseat him. The mountains and forests are filled with spies and thieves and lawless men.
This is where Fire lives. With a wild, irresistible appearance and hair the color of flame, Fire is the last remaining human monster. Equally hated and adored, she had the unique ability to control minds, but she guards her power, unwilling to steal the secrets of innocent people. Especially when she has so many of her own.
Then Prince Brigan comes to bring her to King City, The royal family needs her help to uncover the plot against the king. Far away from home, Fire begins to realize there's more to her power than she ever dreamed. Her power could save the kingdom.
If only she weren't afraid of becoming the monster her father was.
AND HERE IS MY TBRRRRR
Done
FINISHED
You'll notice that I only read a few of the books that were listed in my TBR.
(sorry about that)
OKiee
Byeeeee
laurie